The popular reality star, Terseer Kiddwaya has opened up on the challenges faced as the son of a billionaire especially after a tweet of his that received heavy backlash.
In a recent interview with BBC Pidgin, the 27-year-old entrepreneur raised in the UK clarified a tweet about 'the difference between himself and others is hard work.'
In his words ;
"I feel like people completely misinterpreted what I meant. I feel like, in this country, a son or a daughter from a wealthy background cannot have an opinion, cannot talk, cannot eat, cannot sleep, cannot think. They are not allowed to do anything. What I was simply trying to say is hard work gets you far. It is simply for motivational purpose.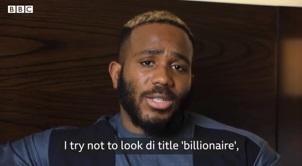 What I face on a regular is that people don't believe I work hard because they feel like 'oh, it's your dad's connection, your dad gave it to you'.
They have this misconception that everyone from a privileged background gets things handed to them easily. And to be fair, that's not the case."
When asked about his financial status, Kiddwaya stated that he is not a billionaire like his father but he is striving to be somebody in life too.
Watch the video below …
View this post on Instagram